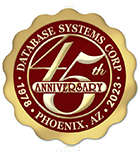 Database Systems Corp.
About DSC
About Database Systems Corp.
The Latchkey Kids calling program was developed by Database Systems Corp. to provide reassurance to parents whose children arrive home early before they come home from work. This program is part of DSC's CARE (Call Reassurance) program.

CARE is a telephone reassurance program from DSC. This program was designed to contact home alone children, senior citizens and handicapped individuals to ensure their well-being.

Database Systems Corp. is headquartered in Phoenix, Arizona and is celebrating its 30th business anniversary. DSC develops and markets call center software products and for a wide variety of industries and organizations.

DSC provides automatic calling services and systems across a wide spectrum of industries and applications. Database specializes in the development of IVR (Interactive Voice Response) phone systems and Voice Broadcasting solutions including outsourced services.

Database likewise provides emergency notification phone systems and services as well as consulting services relating to our products including in-house and on-site training, customer support and maintenance, and customized development.

DSC has developed the PACER and WIZARD predictive dialer phone systems which include a full featured IVR system and ACD software. Voice broadcasting systems and services are provided by our organization.

Database Systems Corp. (DSC) Address
(Click On The Picture Above For Directions)
---
Office Address:

Database Systems Corp.
2550 W. Union Hills Dr. Suite 350
Phoenix, Arizona 85027

Mailing Address:

Database Systems Corp.
P.O. Box 11990
Glendale, AZ 85318

(602) 265 5968

---

Latchkey Kids Information
FAQ
How To Register

Technology
Latchkey Technology
Latchkey Kids Phone
Voice Broadcasting
IVR

CARE Information
Assisted Living
Telecare Phone Systems
Call Latchkey Kids
Call Elderly
Elderly Home Care
Buddy System
Emergency Phone Dialer
Alert Warning System